The past few weekends, A and I have been trying to be good and not spend so much money on going out to eat. This weekend, I think we were finally tired of marathoning Shameless (we are now all caught up) and eating at home, so we went a little nuts. I decided to link up my weekend this week.
Friday:
I got off work early and went to
Bering's
. If you live in Houston and have never been, you need to go. It is a little pricey on some things, but a great place for inspiration or unique pieces to finish a space.
(I want to decorate with pigs in our future house's breakfast nook)
Pig cutting board - $28 | 3D Cookie Cutters - $12 | Spoon Bowl (foreground) - #70 | Pig Soup Tureen $37.50 (clearance - saw the same thing at a shop in Fredericksburg for $70)
Picked A up from work (yay carpooling!) and we had dinner at
Beaver's
(near Midtown). I wasn't super impressed with the food, but I think it would be a good spot for catching up with friends over drinks. We also had a really cute visitor try to get our leftovers.
No pictures, please. Just some leftover fried pickles, if you don't mind.
I always fall asleep crazy-early on Fridays so we decided to try
Cloud Cafe
near our house for coffee. It wasn't the best, but I would give it another shot.
Saturday:
A had an eye doctor appointment so I went shopping while he was there. I didn't have time to try things on, but I did spend a lot of time at Old Navy. I usually don't like to buy from them because I think the quality is poor, but I may have to change my attitude.
His eyes were dilated after the appointment so we went out for Thai and then home so he would be out of the sun. I started teasing him that he should plan a date for me.
He was on a quest for GOOD ice cream and saw that a
coffee place in the Energy Corridor
was supposed to have ice cream from
Cloud 10 Creamery
so we had dinner at Beck's Prime and then went for coffee and dessert... only to have the place no longer carry Cloud 10. But, we stayed and drank our coffee and
I tried to livetweet a couple's first date
.
We went to see Side Effects that night. I didn't really like the way the story was told and I fell asleep through a lot of it (I am NOTORIOUS for this and I really hate it). The end was pretty good, though, and Channing Tatum didn't hurt things.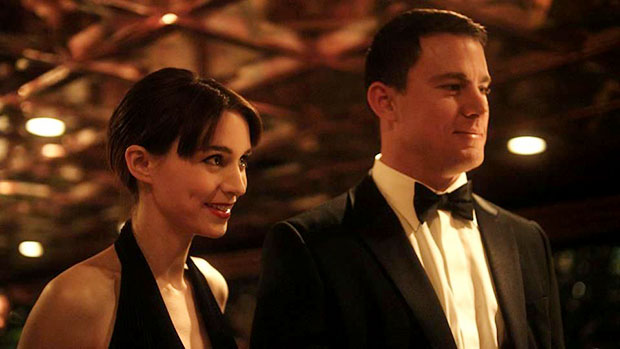 Sunday:
We decided to go out for brunch (yes, I know, gluttons). It was somewhere that I really wanted to like, but I wasn't impressed by it so I am going to wait until I go there again before calling them out. Then we ran errands. We bought a harness for Duncan, our 65 lb-but-thinks-he's-a-lapdog boxer mix, and I took him for a nice, long walk. As I tried to get him in the backyard, he broke the harness somehow and went running down the street. It was awesome (But not. I had to call Andrew to bring the car to get us.).
We ended the night eating dinner at home and watching The Walking Dead. I also spent some time trying to figure out how to make a navigation bar, and I think I found a great tutorial, but if anyone has any tips, please share!