I decided to link up for Sunday Social this week. I'm not sure if I want to do it every week, but this week, it really appealed to me so here we go...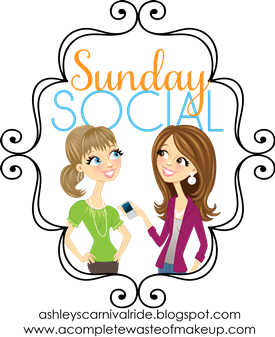 5 Songs you'll listen to the rest of your life
1) With or Without You - U2 (never gets old!)
2) Got To Get You Into My Life - The Beatles (not a #1 but one of my favorites)
3) You & Me - Dave Matthews Band (our wedding song)
4) You and I Both - Jason Mraz ("It's okay if you have to go away, just remember the telephone, well it works both ways" something about that line gets me).
5) Tiny Dancer - Elton John (my dad made a slideshow of family photos to this when I was in high school and I have loved it since).
5 Things on your bucket list (this was the hardest question for me)
1) Visit Napa
2) Go parasailing
3) Visit Europe
4) See U2 in concert
5) Plan a celebrity event (or at least one that would make a celebrity proud!)
5 Celebs you'd love to hang out with for a day
1) The sitting president. Let's not get political here, but I think it would be really interesting to see what a president's life is like.
2) Jennifer Lawrence (doesn't she seem fun?)
3) Oprah (seriously, all that cash?)
4) Kate Middleton (Hello, Princess)
5) Katy Perry (she also seems like she would be tons of fun)
5 Things you always carry in your purse
1) Chapstick (at least two varieties)
2) Claritin
3) Gum (I think it is hideous to chew gum but I can't stop!)
4) My dorky "I heart Andrew" flip flop keychain that my cousin bought me when we first started dating. Pretty sure it was designed for middle schoolers but I'm attached to it now.
5) Starbucks gold card
5 Books on your reading list
1) Defending Jacob (Andrew read it and thinks I will like it)
2) The pile of Entertainment Weeklys on my coffee table (there are so many, it might as well be a book)
3) Bossypants
4) The Giver series. (The Giver was my favorite book in elementary school and I just recently learned that a few other books were written that continue the story.)
5) The Fault in Our Stars. (I have heard it was good but also that it was kind of sappy so it's at the bottom of the list).
5 Share the last 5 pictures on your phone
Bauer taking up half the couch
Duncan and I on a walk. The harness broke as I brought him back to the yard so I had to chase him down the street. So fun.
Tried to use Bauer as a pillow, but he didn't like that.
Sunday Brunch - cappucino with pancakes filled with blueberries and bacon at Eatsie Boys
Drinks at Beaver's on Friday Night