Normally I love listing five things on Fridays, but I got the low-key week I asked for last week (yay!) so I don't really have many fun tidbits today. Luckily, blog land is ripe with link-ups so I thought I would try one that's new to me: Fan Friday.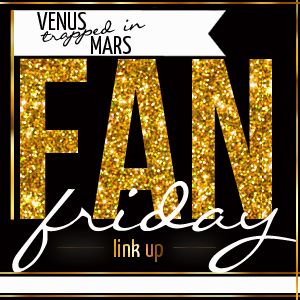 I grew up completely disinterested in sports. I remember getting in trouble in 7th grade PE because I refused to learn the rules of football. I made it through two years of high school band and football games never understanding a minute of the game.
So wouldn't you know, I fell in love with a sports nut?
My husband jokes that it's convenient that we started dating the week of the Super Bowl. He refers to that as boring sports time. If it were football season or maybe even baseball season, he may not have had the time to start a real relationship.
Andrew grew up in Brooklyn and was raised to be a fan of the New York Giants (he was also raised to be a Yankees fan, but that didn't stick). Really, he's a huge sports fan in general. There isn't a day that he doesn't watch SportsCenter for at least a few minutes. This was a completely new world to a sports newbie like me.
When football season rolled around the first year we were together, I mostly left him alone. He plays Fantasy Football and let's just say he is tethered to the TV all day long. I went shopping and took lots of naps.
Once we moved in together, I started staying home and hanging out on the couch during football. After a little while, I started paying more attention - at least during the Giants games. I learned that you can never count on the Giants, even if they are ahead by a ton. That Eli Manning is amazing under pressure but loves to get himself into tough situations. That you get four chances to get a first down. Easy stuff like that. It started to be fun to watch this silly game with my person.
Engagement pics, April 2010.
It was probably in late 2007 when the Giants made it into the playoffs that I actually started to care about football. I got to know the players better and started yelling at the TV right along with Andrew. I remember watching the game that got the Giants into the Super Bowl. My father-in-law was in town and he and Andrew were screaming matching expletives at the players and Tom Coughlin. The Giants won the game and lots of jumping and happy yelling happened. Honestly, I didn't know if I had ever seen my then-boyfriend happier until that moment.
The Giants had to face the 18-0 Patriots in the Superbowl and NO ONE thought they would win. In a hard-fought game (apparently the only way this team knows how to play), they won. More jumping happened, and suddenly, I had a team.
The Groom's cake at our wedding. These are characters from Lost on the Lost island wearing Giants jerseys because A just couldn't pick between his two loves. Ben Linus on the far right is still in a Ziploc in our fridge three years later. This photo and the onle above from Lindsay Elizabeth Photography.
It was easy to start liking the Giants when they were winners. I have learned since that they aren't always so likable. Eli's aw shucks face is not cute when the clock is running out... But, I decided to join my husband's team and I kind of like it. I spend Sundays on the couch sporting one of my five (!) Giants t-shirts and wishing they could just take a lead and keep it. It didn't suck when they won another Super Bowl in 2012. But last season, when they didn't even make it into the playoffs and everyone in Houston was gloating about the Texans getting in? That wasn't my favorite.
Becoming a football fan is not something I ever thought would happen. It's nice that we can bond over the wins and losses together. It forces him to talk to me during games (I still don't know what all of the penalties mean or why coaches do certain things). Plus, there are good drinks and great snacks involved. Also, there's dancing. Are you familiar with Victor Cruz? He is only the most entertaining player in the NFL.
Via Why yes, we do salsa along when he scores a touchdown.
So, I'm kind of looking forward to football season in the fall. I hope the Giants have a great season. And I guess if they don't there's always the Texans next year.

Are you a sports fan? Who's your team? Or do you love to hate a team because someone you love loves it?