I really like answering random questions. In the days of Myspace, I was always doing those ridiculously long surveys with like, 300 questions. As a kid, I loved the beginning of the school year when all the forms were sent home and my mom had to write our address 1000 times... I always volunteered to do it. So, it goes without saying that if you need to nominate someone for something like a Liebster Award, then I'm your girl. This is given to people who have fewer than 200 blog followers and since I am firmly in that category I am the perfect recipient.
I have already
done this once
, so I won't try to come up with 11 more facts. But, Alyssa at
Alyssa Said Hi
nominated me and asked some pretty great questions, so I want to play. If you don't already follow Alyssa, you should. She is super fun and the kind of blogger that you wish lived down the street from you so you could go on random wine nights together and bring her baked goods when you have too many (drinks, not baked goods. I don't think more baked goods are the cure for too many baked goods but I would be willing to take one for the team and find out).
Here's how it works. After being acknowledged, you should...
-Acknowledge the blog that nominated you in a post.
-Tell 11 facts about yourself.
-Answer the 11 questions the nominating blogger created.
-List 11 bloggers with less than 200 followers that you believe deserve some recognition.
-Post 11 questions for them to answer.
-Notify all the bloggers selected that they have been nominated.
-And finally, you can't nominate the blog who nominated you.
Alyssa's Questions:
1. Has anyone ever used a pick-up line on you in a bar that actually worked? What was it?
HA! Not that I can think of, but a friend and I did spend St. Patrick's Day at a bar one year and a lesbian asked to try on our necklaces in kind of a suggestive way... yeah, that definitely didn't work.
2. If you had to choose an actress to play you in a movie about your life, who would you choose? And more importantly, who would you choose to play your man?
The only actress I have even been told I look like is Ginnifer Goodwin (only when she has long hair - maybe because she has a slightly rounder face than most actresses?). And when Andrew and I were first dating, I told him he looked like Mark Ruffalo.
3. If someone gave you $1000, and you only had 48 hours to spend it, and you couldn't spend it on bills or utilities or practical stuff, what would you buy? (It can be more than one thing, of course.)
A new couch! Our current couch is a normal one and we could really use a sectional! Other things I wouldn't mind getting: Kate Spade everything and Cole Haans with Nike Air technology.
4. When you were in kindergarten, what did you want to be when you grew up?
Hmmm, I don't remember back to kindergarten, but in fourth grade we had to do a project on it and I wanted to be a scientist, which makes no sense as I don't remember ever liking science and I hate icky things and math. I guess I was in it for the lab coat.
5. What is a fashion trend that you just don't "get?"
High heeled sneakers. Hammer pants. Cropped shirt/high-waisted skirt combos. Maybe I am getting old??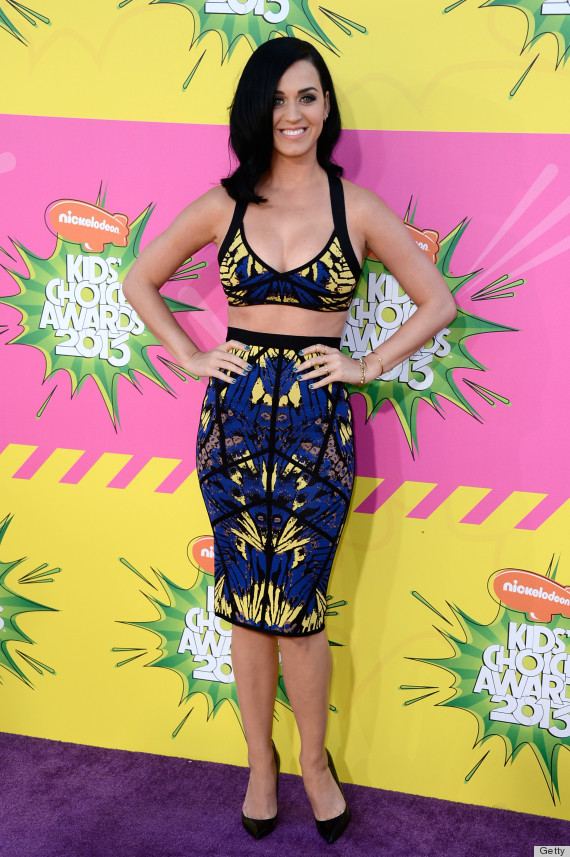 Unless you're Katy Perry, where do you even wear this?
6. If you could only paint your nails with one color for the rest of your life, what would it be?
It would have to be something bright and pink... I think even in professional circumstances, pink nails are pretty forgivable.
7. What is your favorite meal to cook?
I don't cook, but I will occasionally bake on a whim. There is a butterscotch parfait pie that we make on occasion that is really yummy.
8. What was your favorite childhood tradition?
My mom's whole family always gets together on Christmas Eve. We eat a pretty simple meal and then it's present time. As a kid, I thought my grandparents and aunts and uncles gave the best gifts so I looked forward to Christmas Eve almost as much as Santa coming. I think I really liked it because I had other kids to open presents with (I grew up as an only child) and we usually got things we could play with with one another, so it was always my favorite.
9. Apple or Android?
I didn't think I would care that much, but... Apple, for sure! I made the switch in February and haven't regretted it once!
10. What is something your blog friends would be surprised to learn about you?
I am pretty much a disorganized mess. I keep it together pretty well at work, but at home, my poor husband is always picking up after me and runs the house in terms of paying bills, car maintenance, and other adult things. I always say that I am a child.
I also don't think that I am very good at being "me" on my blog - I think my personality is more evident on twitter. I'm working on it, though!
11. If you could bring back one TV show that no longer airs, what would it be?
So hard because I do love TV! Gilmore Girls is the obvious answer, because I do love it. I also love Chuck and Pushing Daisies. Chuck pretty much ran its course, sadly, but Pushing Daisies never really got a chance to thrive. It's on Amazon Prime - watch it!
Tag! You're it, friends:
Mandy (my IRL friend - our husbands were in each other's weddings. Too bad she lives in Kansas!)
Heidi (who grew up in the same area I did and needs to move back to Houston ASAP so we can drink wine)
Catherine (sat next to her at a blog meet-up and is one of the few who actually blogged every day in May!)
Amy (who has been MIA from blog land... maybe this will bring ya back!)
Rachelle (who can walk to my office, whereas I drive 30 miles... I am infinitely jealous!)
Liz (she's even newer to blogging than I am!)
Sarah (she features super cute outfits and her super cute son!)
.... and I'm a quitter who isn't going to find 11 who I don't think have already done this. So now you know that the rules aren't really rules and you can break em however you want should you choose to participate. There is no Liebster Acceptance Committee who is going to come and take your award away.
But if you choose to play, here are my questions for you:
1) What band or artist should I be listening to right now?
2) What makes you follow a blog or leads you to comment?
3) Why do you continue to blog?
4) What are your three must-haves if you were stuck on a deserted island?
5) Gotta ask a food question, so what's your all time favorite meal or dining experience?
6) Where's your favorite vacation spot that you have already visited?
7) What's a side of your personality that isn't clear by your blog?
8) How did you end up in the city you live in?
9) How would you spend a perfect day?
10) What is your favorite trait about your favorite person?
11) What's your drink of choice (alcoholic or non)?
That's it, y'all. Two posts in one day and zero cat pics in any of them.