People are all in an uproar because there are instagram ads now. I rarely ever see them, so honestly? They don't bother me. But there are lots of things I see on instagram and facebook that I wish I could ban forever... or at least mostly unsee.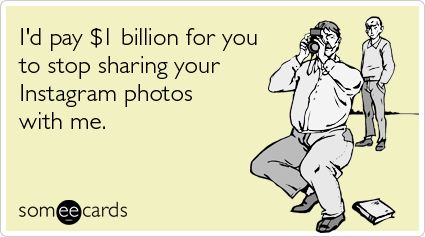 Okay, maybe not a billion but...
1)
Animal carcasses:
I get it. I eat meat, too. That doesn't mean I need to see the gory details of how that venison got on your plate. I'm squeamish, I have never shot a gun before, and to me that is still Bambi. Just because you did it doesn't mean everyone wants to see it. Save that for a direct email or text messages to your friends who understand the work or effort or whatever went into it.
2)
Breastfeeding babies:
I am probably going to catch hell for this, so come at me. I have no issue with breastfeeding at all and how you raise your child is totally up to you. Buuuuut... when your nipple is on my instagram, I'm just not a fan. When little Johnny is a freshman in high school, won't it be a little traumatic for him to see his cute little baby face and mama's bathing suit area in the same shot on the internet for the world? Bond with your baby, feed it however you please, and even photograph it - but really, there is no need to run it through Toaster or X-Pro to see how many likes you'll get. I promise, your baby will do way cuter things that won't make him turn as red when he finds your outdated Instagram account in 18 years.
3)
Starbucks cups:
For the love of all that is holy, I drink Starbucks, you drink Starbucks, we all drink Starbucks (because we all shop at Target and it's so convenient, duh). I do not need to see your Starbucks cup. I don't care if it's red. It might be kind of funny if they spell your name wrong, I'll give you that. But for the most part, $4 coffee trips can totally be kept to oneself.
4)
Shop My Closet Sales:
Can you just use twitter for this instead? Please?
5)
iPhone notes, instagrammed:
There's this cool thing called Twitter that you probably have. Yeah, I know 140 characters is hard sometimes but it forces you to be creative and succinct. I like that. This especially bothered me when the default Notes font was so Comic Sans-esque. You have twitter, Facebook, and probably a blog. Say what you need to say there, please!
Honorable Mention: I really, really hated Instagram video til my smart friend
Sarah
told me I could stop them from playing automatically. You're able to build up a lot of rage when you are too lazy to dig into your settings.
So, these are a few of my least favorite Instagram things. What do you hate to see there? I hope it isn't food or cats or else you probably hate following me... But if you're into that, find me
here
.