Truth: It's been so long since I posted a photo on my blog, I had to think about how. Another truth: When I saw my friend Bre post these
free stock photos for bloggers
, I knew I wanted to write about the goals I've been working on. Seeing that
Steph
and
Sara
are hosting a goals link-up sealed the deal.
I'm not a goal-oriented person. I like to do what needs to be done and do it well, but looking to the future isn't my forte. Perhaps I fear failure, so if I never plan to accomplish anything, I never let anyone down. It isn't ideal. I've been thinking a lot about hard work, doing things that benefit me, and the payoff that comes from working hard, or at least consistently, toward something. I felt like I needed to make some goals for myself, simply for the satisfaction of getting things done, the same way I'll make myself a checklist of things to do at work just for the simple joy of crossing them off. So, here are some goals from a self-proclaimed non-goal setter. They've been in my head for about a month and will definitely take me through the fall and beyond.
1)
#tenfortieks:
Yup, it's something I have never tweeted about but in my head, it's a hashtag. I wear ballet flats to work daily and cheap ones just aren't cutting it anymore. I've seen Tieks before on bloggers, but it wasn't until I saw two coworkers with pairs that I got really interested in them. I was able to ask real people if they were worth the steep price tag (they start at $175!) and actually comfortable and I got a resounding yes. So, I decided I needed to have them, but I need to earn them. Enter Ten for Tieks (#tenfortieks). I need to lose 10 lbs and if I do, I get myself some shoes. It's been a good way to motivate myself to get up at 5 a.m. and go to the gym, take walks at lunch, do less mindless or emotional snacking, and think about the money I save every time I don't give in to junk. I've lost about 6 lbs in six weeks - I'm not doing anything crazy - but I think the mindfulness I'm gaining will make the process worth it.
2)
Use My Planner:
I have a $10 planner from Target with an unconventional set-up that totally works for me (post to come, possibly). I like to use it to keep up with all the things I want to do, from podcasts to listen to, new TV shows to watch, cleaning chores to do that night or in the future, how much I worked out, and things like that. I also try to document a little thing I did each day in it, from trivia nights to lunches with friends or binge watching a TV show (yup, there's a Stranger Things day). I like that it helps me see where I spend some of my time and helps me remember things I'm bound to forget.
3)
Dress more like an adult:
The aforementioned daily ballet flats are usually accompanied by pants, a top, and a cardigan. There's a reason I'm not a fashion blogger. But, I have noticed when I wear heels or a dress or have my nails painted I feel... better. Older. Like I'm playing the role of Real Adult Professional and have my life together. It's a nice feeling. Not for every day, but I have been trying to keep it in mind as I create a fall wardrobe. I want to buy a blazer, but they always make me feel like an extra in an 80s movie, but surely there are some without shoulder pads, right? And, I've been painting my nails more which is so easy that I wonder why I don't do it more often.
I have other, smaller life things I'm working on, too. Write more, start Christmas shopping, be a more supportive friend, use my time more wisely, and try new things. It's a lot. But it's nice to have a focus. Maybe I can become a goals person after all. Does that count as another goal?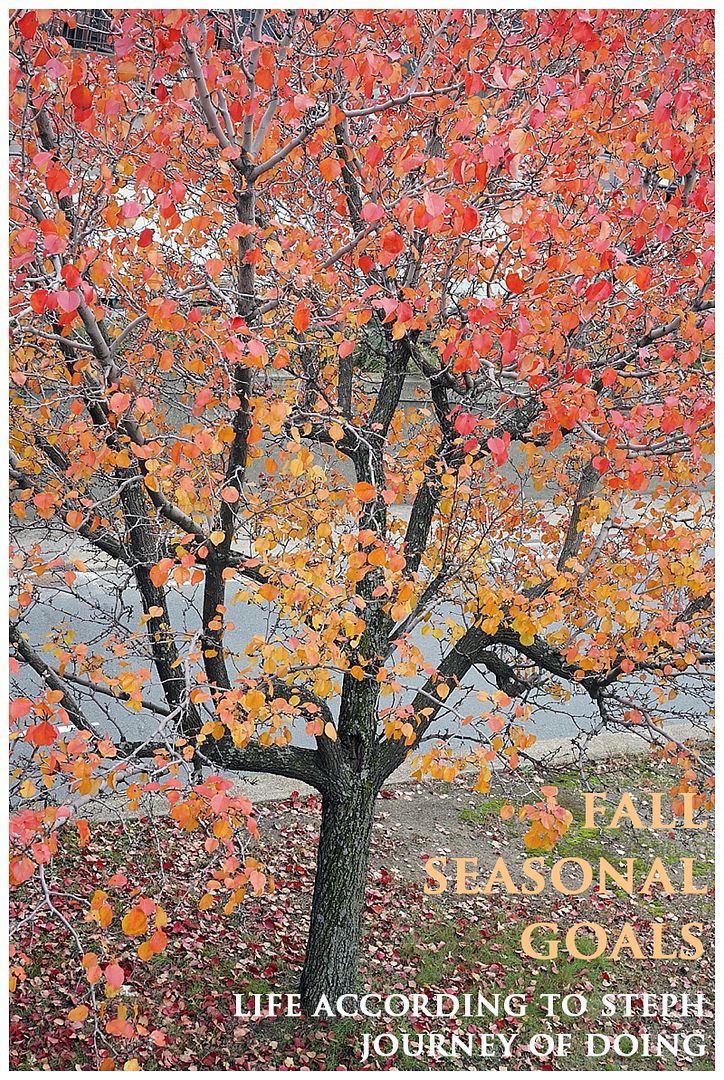 Save
Save